If you enjoy walks on the beach, leisure activities like golf or tennis, fine arts, great dining, and a vibrant business climate, Sarasota is for you.
Take some time and see why we think Sarasota is one of the best places to visit and live.
Sarasota,  is a vibrant coastal city that blends natural beauty with cultural sophistication. Located on the Gulf Coast, Sarasota offers stunning white sandy beaches, crystalline waters, and breathtaking sunsets. Beyond its picturesque shoreline, the city boasts a thriving arts scene, with renowned institutions like the Ringling Museum of Art and the Sarasota Opera House. The vibrant downtown area is filled with charming boutiques, galleries, and a diverse culinary landscape, catering to a range of tastes. Sarasota also embraces outdoor enthusiasts with its numerous parks, trails, and golf courses. With its warm climate, cultural richness, and recreational opportunities, Sarasota is a beloved destination for both residents and visitors alike.
Siesta Key Beach – Best Beach In The Nation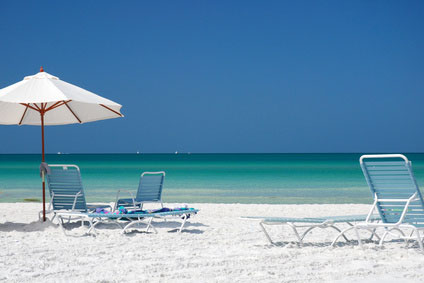 Siesta Key Beach is renowned for its pristine, powdery white sand and turquoise waters. Voted as one of the top beaches in the United States, Siesta Key Beach offers a breathtaking coastal experience. The soft, quartz sand, composed of 99% pure crushed crystals, feels cool to the touch even on the hottest days. The beach stretches for miles, providing ample space for sunbathing, picnicking, and playing beach games. The gentle waves invite swimmers and water sports enthusiasts, while the abundant marine life offers opportunities for snorkeling and scuba diving. With its natural beauty, warm climate, and relaxed atmosphere, Siesta Key Beach is an idyllic destination that captivates visitors with its timeless coastal charm. The beautiful blue-colored water is clean and clear, making it so inviting to bathers and swimmers.
( View Map of Sarasota Beaches )